Equipo Hispano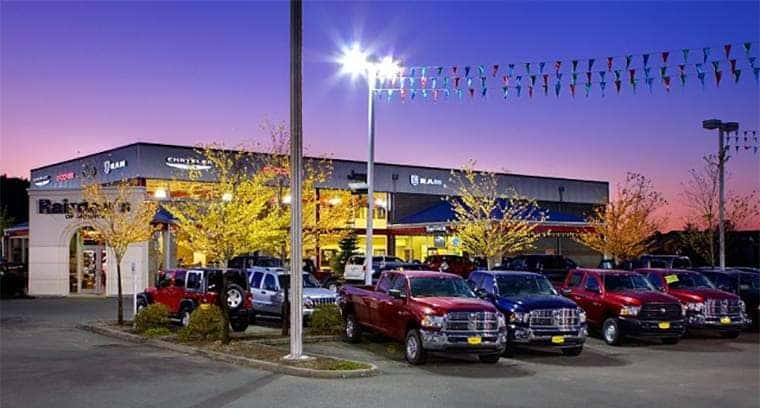 Rairdon Chrysler Jeep Dodge — Un nuevo y pre-propiedad de concesionario de automóviles en Monroe Washington
---
Rairdon's Dodge Chrysler Jeep of Monroe in Monroe, WA, también sirviendo Seattle, WA y Lynnwood, WA es orgulloso ser un líder automotor en nuestra área. Desde que abrimos nuestras puertas, el Dodge Chrysler Jeep de Monroe de Rairdon ha mantenido un firme compromiso con nuestros clientes. Ofrecemos una amplia selección de vehículos y esperamos que el proceso de compra del coche sea lo más rápido y sin problemas posible.
Si desea opciones de financiación y está en el mercado para comprar un nuevo Chrysler, Dodge, Jeep, RAM o coche usado o camión, vamos a proporcionar ayuda para ayudarle a encontrar opciones de financiación que se adapten a sus necesidades! Si usted tiene mal crédito, no hay crédito, o es un comprador de coches por primera vez, usted puede confiar que Dodge Chrysler Jeep Rairdon de Monroe le llevará en el coche o camión que elija con profesionalismo y atención a sus necesidades.
Rairdon's Dodge Chrysler Jeep of Monroe tiene un servicio experimentado y confiable y departamentos de piezas que son horas adicionales abiertas para ayudar a ajustar horarios agitados de nuestros clientes, y como siempre, Dodge Chrysler Jeep de Rairdon de Monroe ofrece precios competitivos para sus necesidades de mantenimiento automotriz. La satisfacción del cliente es nuestra máxima prioridad, y nuestro personal está comprometido a lograr este objetivo en todos los aspectos de nuestro negocio. Por favor siéntase libre de contactarnos al (888) 517-6402 si tiene alguna pregunta o comentario.