Let's Compare The Grand Wagoneer To Its Competition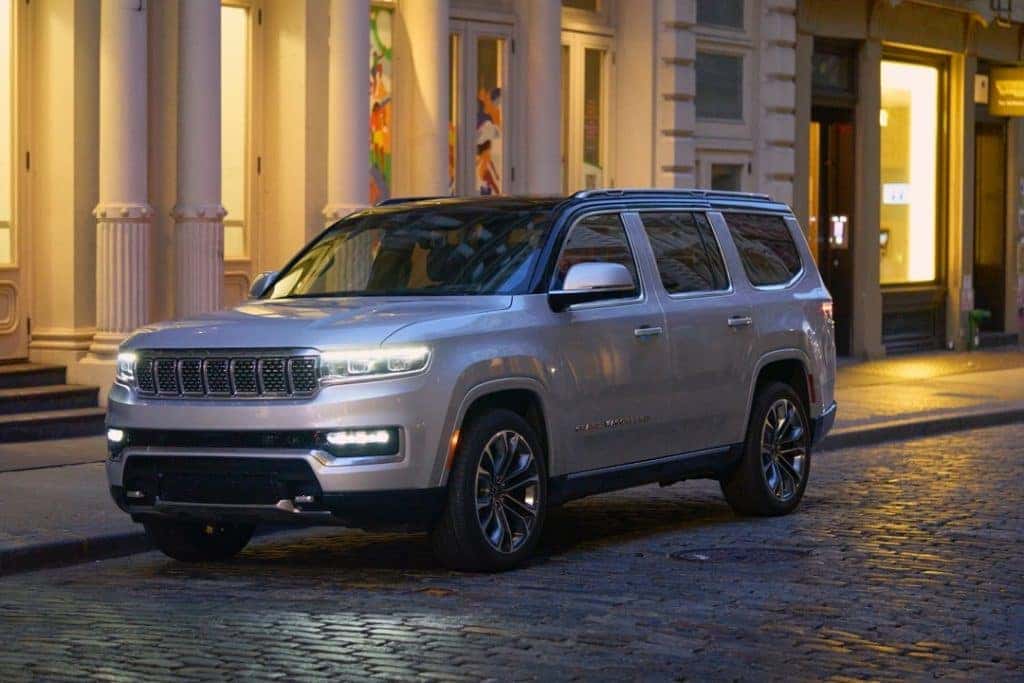 This is the pinnacle of luxury, the all-new Grand Wagoneer. There is nothing quite like it in Western Washington.
The Grand Wagoneer offers a lot more than you think. You have a powerful HEMI V8, offering the best towing capacity in its class, along with all of the capability and luxury that adds to the legacy as the first luxury SUV ever created in the U.S.A.
Let's see how the Grand Wagoneer compares to the Cadillac Escalade, Lexus LX 570, Lincoln Navigator, and Range Rover.

Jeep Grand Wagoneer Series II Obsidian
Cadillac Escalade Platinum
Lincoln Navigator Black Label
Lexus LX570 Three Row
Range Rover Westminster LWB
2020 Toyota 4Runner
Number of configurations
4
10
5
2
9
12
Engine Type
6.4 Liter V8
6.2 Liter V8
3.5 Liter Twin Turbo V6
5.7 Liter V8
Supercharged 5.0 Liter V8
4.0-Liter V6 DOHC
Horsepower
471
420
450
403
518
270
Torque
455
460
510
383
461
278
Transmission
8-Speed Automatic
Transmission
10-speed Automatic
Transmission
10-Speed Automatic
Transmission
8-Speed Automatic
Transmission
8-speed automatic
Transmission
5-speed Electronically Controlled automatic w/ ECT-i
Drivetrain
4x4
RWD Standard
AWD Optional
RWD Standard
AWD Optional
4x4
4x4
Available
Max Towing Capacity
10,000 lbs.
7,700 lbs.
8,300 lbs.
7,000 lbs.
7,716 lbs.
5,000 lbs.
Combined Fuel Economy
15
16
17
14
18
12 city/ 24 hwy
Ground Clearance
10 Inches
8.9 Inches
9.6 Inches
8.9 Inches
8.7 Inches
Cargo Volume Rear Seat Up
70.9
72.9
57.5
44.7
39.9
88.8 (front), 46.3 (2nd Row), 9.0 (3rd Row)
Cargo Volume Rear Seat Down
94.2
121
103.4
83.1
81.6
97.3
Number of Seats
7 or 8
7
7
5 to 8
5
5 or 7
Base Price
$94,895
$104,595
$98,655
$91,930
$117,500
There are plenty of advantages the Grand Wagoneer has over the Cadillac Escalade.
They said that no one could match the Escalade in terms of refinement, luxury, and cache. The Grand Wagoneer has just done that – and more.
Standard HEMI V8 power with best-in-class towing capacity.
Compared to the Cadillac, the Grand Wagoneer offers easier access to the third row.
Others have imitated and tried to copy the formula – that is why Grand Wagoneer has returned to fulfill its legacy. The Grand Wagoneer created this genre of luxury SUV long before Cadillac.
There are plenty of advantages the Grand Wagoneer has over the Lexus LX 570.
Easier to step into, sit, and get comfortable overall
Designed from the ground up as a luxury SUV through and through.
Our V8 offers more performance and a greater towing capacity.
We offer a better driver assistance and an active safety environment for everyone onboard the Grand Wagoneer.
There are plenty of advantages the Grand Wagoneer has over the Lincoln Navigator.
Style is one thing. Execution is another. The Grand Wagoneer is bold, but subtle – the way our customers want their luxury SUV.
To tow heavier trailers, you must have a more powerful, naturally aspirated V8 with true low-end torque.
Space, comfort, access, and the highest level of technology. That is how you do the interior of a luxury SUV, such as the Grand Wagoneer.
The Grand Wagoneer wrote the book on flagship SUVs in the 1980s. This is an all-new chapter done right.
There are plenty of advantages the Grand Wagoneer has over the Range Rover.
The Grand Wagoneer wrote the book on the luxury SUV before the Range Rover finally arrived here.
Our maximum towing capacity is the best in class – period.
Luxury and refinement are measured with quality and reliability. The Grand Wagoneer is engineered for the long run with proven and higher-quality components.
Our V8 does not need to be enhanced to get the job done.
When it comes to value, no one beats the Grand Wagoneer – period!
Contact us at Rairdon's Chrysler Dodge Jeep Ram of Monroe to get your Grand Wagoneer today!