While at first the comparison between a Jeep and a BMW might seem like comparing apples and oranges, with the Jeep Grand Cherokee and the BMW X5, there is a fair amount of utility crossover.
The BMW X5 does not disappoint when it comes to design. The cabin is both large and well designed, and the interior features a stylish, clean look. The X5 does everything one might expect from a large SUV, but unfortunately, all that luxury comes with a fairly hefty price tag. The BMW X5 is going to hand owners a steep monthly payment with its MSRP starting at $82,000. If you're looking for the top trims on your BMW X5, the price is even steeper, stretching the cost well beyond the average SUV of its size and class.
Fortunately, the Jeep Grand Cherokee brings all the luxury amenities to the table without breaking the bank. The monthly savings are plain to see with the MSRP of the Grand Cherokee starting at a more modest $32,150. The Grand Cherokee offers plenty of powertrain options and boasts great handling capability on-road as well as off-road. Best of all, you don't have to sacrifice design or style with the Grand Cherokee, as the model offers trim options and modern interior features to suit your taste.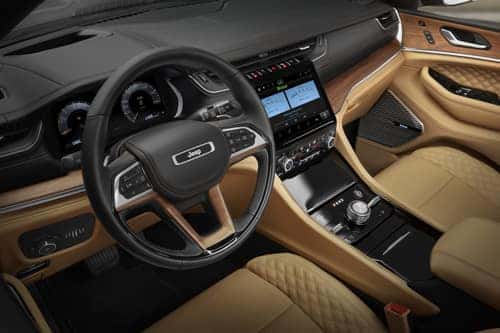 With fuel prices so high these days, the Grand Cherokee sports an impressive advantage over the less economical BMW X5, offering 19 MPG on city streets, and up to 26 MPG on the highway. Plus, with the Grand Cherokee, you can look forward to a larger fuel tank capacity, meaning fewer stops on your road trip.
When it comes down to it, while the BMW X5 is certainly an impressive SUV, the Jeep Grand Cherokee outperforms it in most areas. And while BMW may be synonymous with luxury, not only is the Jeep Grand Cherokee a practical, functional off-road vehicle that won't break the bank, but it steps up to claim a seat at the luxury SUV table as well.